Banners - Full Color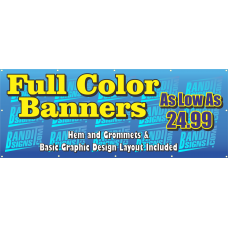 Price: $24.99

Available Options
Upload your logo or design Ideas
(Hint: google has thousand of images, even if you don't have art of your own.. find something you like to give us suggestions for what you are wanting) We however can't use copyrighted art, But, will do our best to create something similar
In the Text,

let

us know about any Text, company names, numbers etc. you absolutely must have in your design.

In the Special Instructions, Tell us colors, ideas and we will create your art to your specifications, no fumbling with clunky text boxes and templates, We will do the work for you.

Next simply pick the Size and Quantity and let us do the work!!

Your Artwork comes with your order and we will email you a proof.
Full color printing edge to edge on the Size Banner You Choose
All Banners Have a Taped Hem

All Banners Have Grommets and are Ready To Hang!!!
*
Banner Size:
1
--- Please Select ---

+$0.00

$35.00

+$0.00

$35.00

+$0.00

$45.00

+$0.00

$55.00

+$0.00

$55.00

+$0.00

$75.00

+$0.00

$85.00

+$0.00

$85.00

+$0.00

$37.00

+$0.00

$47.00

+$0.00

$69.00

+$0.00

$69.00

+$0.00

$95.00

+$0.00

$144.00

+$0.00

$129.00

+$0.00

$129.00

+$0.00

$137.00

+$0.00

$95.00

+$0.00

$99.00

+$0.00

$129.00

+$0.00

$137.00

$0.00

$145.00

+$0.00

$199.00

+$0.00

$229.00

+$0.00

$240.00

+$0.00

$249.00
Upload Your Logo or Design Idea or Background (optional):

Tell Us the Text to Use:

Special Instructions - Colors - Design Ideas: